Nowadays you will be hardpressed finding anyone that has not heard about "the" metaverse. Lastest after Meta (formerly Facebook) decided to rebrand their whole company, in order to embrace metaverses fully, it stands out of question, whether metaverses are realistic. Meta did not invent metaverses though, nor is their creation the first or only metaverse on the market. For this, it is important to answer, what exactly the metaverse is. At the same time it's quite interesting to ask, how a metaverse exists and how we can interact through and with it.
What is a metaverse?
The easiest way of describing the idea of a metaverse is to describe it as an alternative and virtual reality. The basic idea behind it is to have a virtual place in which we can interact with one another. This can go from as little as a roleplaying game up to a virtual meeting room. Through the use of virtual bodies, called avatars, we as users might even place ourselves inside such a space. As the virtual world gains importance and influence daily, metaverses open up like doors granting access in a whole new way.
How does a metaverse exist?
Next to the creation of such a metaverse, we have to think about how we gain access. As forementioned, a metaverse is but an interface for people using the virtual world. The questions that really matter might be which files we can use to create such a space? And just as if not more interesting, how can we give users access to said files and assets? On the weltfern newsblog, we have articles and insights on some exciting background around metaverse content creation. Feel free to take a moment to read up on the topic as needed. Nowadays it is very possible to create such a world, yet the workflows still present to be difficult.
A metaverse needs to be versatile and normally has to be created with a multitude of applications. Since businesses tend to try to reach as many customers as possible, such an universe probably needs to be multimedia capable as well. As realtime is needed to give instant access, Pixelstreaming and similarly expensive external providers have to be used as of now. Because of this the hosting of metaverses oftentimes is still quite expensive. We do want to take a look at some applications that could prove to be useful for metaverse creation.
Unreal Engine
We discussed the usefullness of Unreal Engine in the past and it's an incredible application with a plethora of usecases. Yet it might not be the most useful for the creation of a metaverse. It is true, that artists can use it to place and create most scenes they need for a metaverse. Another valuable fact is, that companies can use UE for working in teams. The engine is capable of reading many file formats, giving a multitude of workers access to a single scene. The reason UE5 is not yet ready and useful for the creation of metaverses, doesn't lie within the engine itself though. At the moment, businesses more of struggle with bringing their creation to their customers. The only real way to do this for now, is Pixel streaming or an equally expensive 3rd party extension, as WebGL does not yet exist for UE5.
Omniverse
NVIDIA Omniverse™ is an extensible platform for virtual collaboration and real-time, physically accurate simulation. The true use of such a platform, is the ability of creators, designers, researchers and engineers to come together and work on a shared virtual space. Omniverse uses .usd files to reference assets created in a multitude of applications. Because of that teams are able to work on the same project without having to worry about file conversion.
The question now is, how does Omniverse differ from UE5 and why is it more useful for the creation of a metaverse than Unreal is for now. Well the main difference are the file sizes. While UE5 can import assets, Omniverse only references them, which makes the final size a lot smaller. The main reason Omniverse can do what it does is the file format .usd and .usad it uses.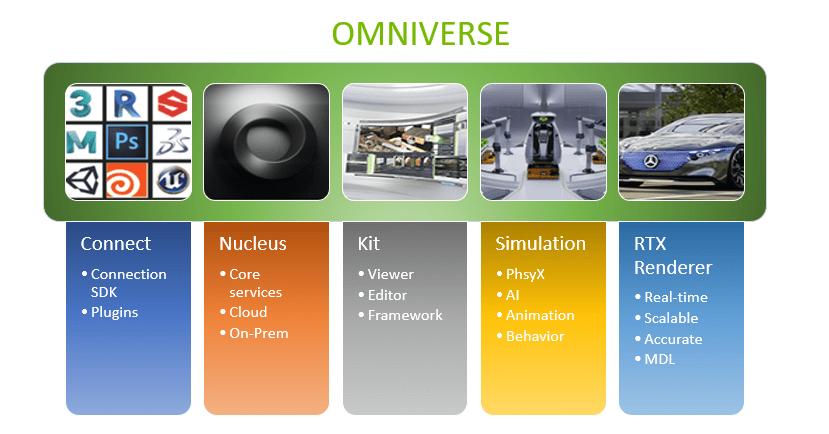 .usd what does it do?
Universal Scene Description (USD) is the first publicly available software that addresses the need to robustly and scalably interchange and augment arbitrary 3D scenes that may be composed from many elemental assets.
Created by Pixar .usd is short for "universal scene description" and does exactly what it sounds like. The software uses .usd to describe assets, placing those description in a scene or relating them to other assets. To visualize this file system, omniverse uses a layer system. Each .usd is put on its own layer, which are ordered in a hierarchy system.
Because assets are only referenced though, they can't be transformed inside a scene. Each creator can work on their original asset inside their respective applications. Each transformation (position, size, etc) is noted on the layer, still as a reference to the original asset. This way a team can work together to create something complex and finished.
Sources
Unreal Engine 5
https://www.unrealengine.com/en-US/unreal-engine-5
Omniverse
https://www.nvidia.com/en-us/omniverse/
Images
All images and screenshots were taken for research purposes only, neither them nor the projects are for comercial use.