You probably have been fooled before. A picture that looked like a photo was not real at all, it was actually a computer generated image. Whether in a movie, a game or a commercial, Photorealism is everywhere. Photorealism is much easier these days, but there are a few points to keep in mind. One of the most important ones deals with the level of detail of the 3D objects and textures used - with augmentable and other Remesh tools. Regardless of which method, the result is a 3D object consisting of a variety of data. This is not only harder to work with, it also results in huge file sizes which take up a lot of space. The resolution is to optimize both the 3D object and the textures associated with it.
Remesh: Why not simply reduce to fewer Polygons?
Reduction inevitably means loss. A tiny .GLB file without loss of quality always results from a precise quality-dependent check of source information. As shown in the examples, we base our calculations on a photogrammetry scan.
Scans are relatively easy to order from a scan provider with the appropriate scanner. Scan providers already offer downscaled results, but mostly only with Albedo and Normal map (without PBR processing). For manufacturers with a high number of units, a detailed consultation is a good idea. Often the scan prices are high with incorrect configurations, it is easy to fall into a cost trap.
The process "Remesh" does not simply mean downsizing, but downsizing based on shape! The mesh adheres to the curvature of the original scanner mesh. Remesh means not simply downsizing, but shape-based downsizing! The mesh adheres to the curvature of the original scanner mesh. The reduction of the mesh follows only where fewer polygons are needed. We will report on this in more detail in our next blog post on materialization. The excellent news here is that we have integrated this technique into our platform.
Remesh: To produce .GLB - The 3D JPEG with augmentable!
"augmentable", as the name suggests, is increasable or addable. It gives you the possibility to work faster than ever. The ideal platform for production and quality management.
Work processes can be saved, redistributed, and artists and organizers can work closely together. All this without the need of using additional Chanels or platforms. The perfect all-rounder for an undisturbed creative workflow. You can scan data with very high detail and reduce it's file size to a couple of Megabytes. The use of the integrated remesh function avoids the loss of quality described above! For this purpose augmentable goes for the smallest, yet most uncompressed standard - for textures this is .PNG and for meshes .GLB.
The result is an "augmentable asset", which means tiny file size with excellent quality.
It is important to represent the shape of a product as best as possible with polygons. With the augmentable software, the crucial algorithms come into play. It is important to understand the shape instead of simply calculating the number of points.
First we start with 300-800MB Large 3D Object + 250MB texture file (4.5 million 3D points + 8K texture) becomes (40.000 points á 5MB + 2x 30 MB texture)
Unfolding" of the object into a 2D representation, in order to then "overlay" the colors (textures) "overlay" it and 2D space optimization
Transfer of the original colors and details to new textures for the new object.
All these Steps augmentable are done within 5 minutes, you don't need other programs or skills to Remesh a 3D Asset.
The structure, shape, color, clarity and quality of the surface of the 3D object remains. You can export / process 3 different file sizes with augmentable. This way, a single program is sufficient for processing 3D assets instead of creating elaborate asserts with many different programs.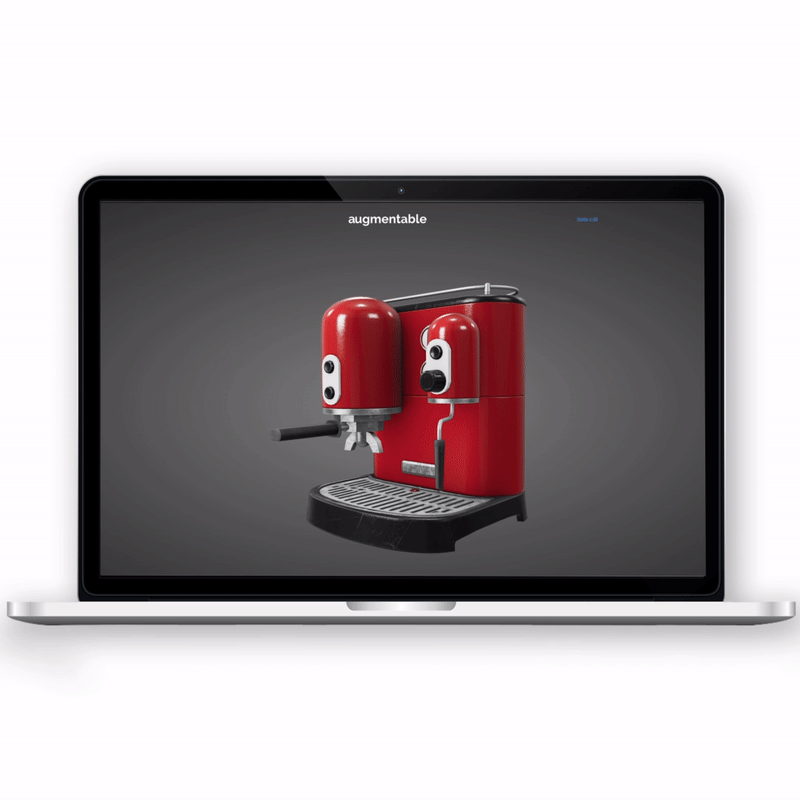 Benefit from weltfern 3D expertise!
We strive to maximize 3D quality together with major customers like Adidas. You are welcome to try our online tools augmenting 3D assets / and request personal demo appointments followed by a case-specific consultation.